One of the most common questions new offshore fisherman ask is "How do I find Fish Offshore?". To be quite honest there is no one right answer, everyday on the water is different. The open ocean is extremely vast and 99% of the fish occupy 1% of the water. To be successful you need to find the pockets of water were fish are congregating. In the most general terms, we will classify the following into fixed structures and moving indicators.
Moving Indicators
Birds are some of the best fisherman on the planet, and for hundreds of years, fisherman have followed them to find fish. Frigate birds are notoriously good at locating bait fish due to incredible eye sight and their ability to cover 100's of miles in a single day. Studies have found a bird's eye can dramatically outperform a human's while using the world's best binoculars. Additionally, frigate birds can fly continuously without landing for months in order to cover incredible amounts of ground. Frigate birds are unable to land in the water because their feathers are not water proof. Due to this, frigate birds rely on game fish such as Tuna, Mahi, and Billfish to drive small baitfish such as flying fish and sardines to the surface where they swoop in.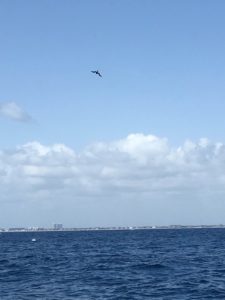 Because frigate birds rely on game fish to feed, they often will follow schools of game fish until a feeding frenzy begins. Understanding the feeding patterns and lifestyle of a frigate bird is very important as it will allow you to read the birds you find in the open ocean.
The best way to consistently find bird is using an open array radar. I personally use a 6kw Open array radar paired with a Furuno Navnet 3d to find birds. (For more information on radar use, see our article on finding birds with radar.)
When you do find a bird, you will need to read it's body language to understand what the fish below are doing. When the fish below are stationary it is very common to see the birds circling the exact same location of even diving on bait depending on the frenzy. In this situation, you do not want to drive your boat directly under the bird as this will cause the fish and bait to scatter and ruin your chance at catching anything. It is best to give the bird space as you troll past and turn your boat as you pass the flock dragging your lures directly under the birds without spooking the fish below.

Weed lines act as floating eco systems that attract predators at all levels of the food chain. The floating sargasim weed provides incredible shelter for small baitfish, shrimp and crabs to thrive. The small baits fish that seek shelter in the weed then attract Mahi, Wahoo, triple tail, and occasionally marlin or sailfish. The formation of weed lines is very dependent on prevailing winds and currents. There isn't much magic involved when it comes to finding weed lines which is a blessing and a curse. Since weed lines are easy to find it is not uncommon to see several boats fishing the patch of weed. It pays to be the first boat on the weed line, as they can quickly get picked over by late morning.
Floating debris like logs, pallets, abandoned boat or other items can be an offshore gold mine. Because floating debris are often much harder to spot compared to weed lines they receive significantly less pressure. Because of this, a piece of debris may go several days or possible weeks without seeing a fisherman. The light fishing pressure provides bait and game fish time to populate. The longer a floater goes without being fished, the more likely it is to contain larger fish like trophy mahi, wahoo or marlin.
If you spot a piece of floating debris do not initially run directly to the object, begin trolling around the perimeter as game fish could be holding as far as several hundred yards off the perimeter then work your way closer with each lap. Only after you have made several distant laps around an object should you pass directly by the object.
Fixed structures like oil rigs, under water sea mounds, and deep water canyons can produce legendary fishing conditions. Fixed structures tend to be well known by many fisherman and can often receive significant pressure.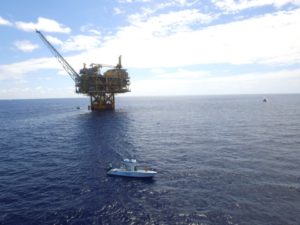 Oil Rigs dot the landscape in the Northern Gulf of Mexico along the Florida, Alabama, Mississippi, Louisiana and Texas coast. Every oil rig acts as huge ecosystems for anything that swims in the ocean. These incredible structures served as a sanctuary for small crabs and bait fish that large pelagic gamefish feed on. The oil rigs are often times 100's of feet in diameter and penetrate the ocean thousands of feet. Because of the sheer size of the structures, oil rigs can produce incredible quantities of baitfish that attract pelagic fish daily. See our list of popular oil rigs to fish ADD Link
Under water sea mounts (AKA humps) such as the Marathon Humps, Islamorada Humps, 409 humps are natural under water mountains that rise up 100's of feet from the bottom of the ocean floor. For example, the marathon hump which is approximately 30 nautical miles off Marathon in the Florida Keys rises to 475 ft from the surface and drops like a cliff to 1200 feet in a matter of feet. Because the humps are so large they disturbed subsurface currents and create upwelling's that drives nutrient rich water from the deep up to the surface of the ocean as the water is forced up and over the hump. The conveyor belt of nutrients is famous for congregating black fin tuna, wahoo, and Mahi. At times the current from the upwelling's is so strong it can produce sections of extremely rough water on a day when the surrounding waters are glassy calm.
The down side of fishing the humps, is they are well known by many local fisherman and tend to receive lots of pressure. Due to this, it pays to be the first boat on the lump in the morning, which often means leaving the inlet prior to sunrise. For the best results focus on trolling small lures like a hit man or trouble maker micro first thing in the morning around the perimeter and across the top of the hump.
Drop offs and ledges – the first thing that comes to mind when I think of fishing drop offs or ledges, is the Bahamas. The ledges that skirts the perimeter of the little Bahama bank and great Bahama bank is extremely pronounced. There, the topography plunges from 10 feet of water on the Bank to over 600 ft over the course of several hundred yards. This dramatic bottom contour creates incredible fishing grounds. These areas are famous for producing huge wahoo during November to March and Big Mahi, Tuna, or Marlin in April through June. For more info, check out our other articles about high speed trolling for Wahoo in the Bahamas. WAHOO IN THE BAHAMAS
Lastly when looking for fish, it helps to think like a fish. In general, fish are relatively simple animals and care about two major things:
Food source – In my opinion, bait is the main and most important factor when determining where fish will congregate. For example, a Mahi will eat between 10%-20% of their body weight daily. If you find the bait, you will often find the fish.

Living Conditions – pelagic fish are very particular when it comes to where they will and will not travel. Just like a human will always pick a seat in the shade on a hot day. Pelagic fish tend to prefer specific temperatures, salinity levels, and clarity. Ideal conditions will vary by specific species, but in general you will have the best luck in clear blue water between that is between 75 and 85 degrees.
Pelagic fish are constantly moving in search of food and favorable living conditions. Game fish are able to cover incredible amounts of ground in a single day. Because of this, every day on the water is a new day. Just because you wacked them in one area yesterday doesn't mean you will again next weekend. Sometimes you just have to put some miles down and find where the fish are holding on any given day.