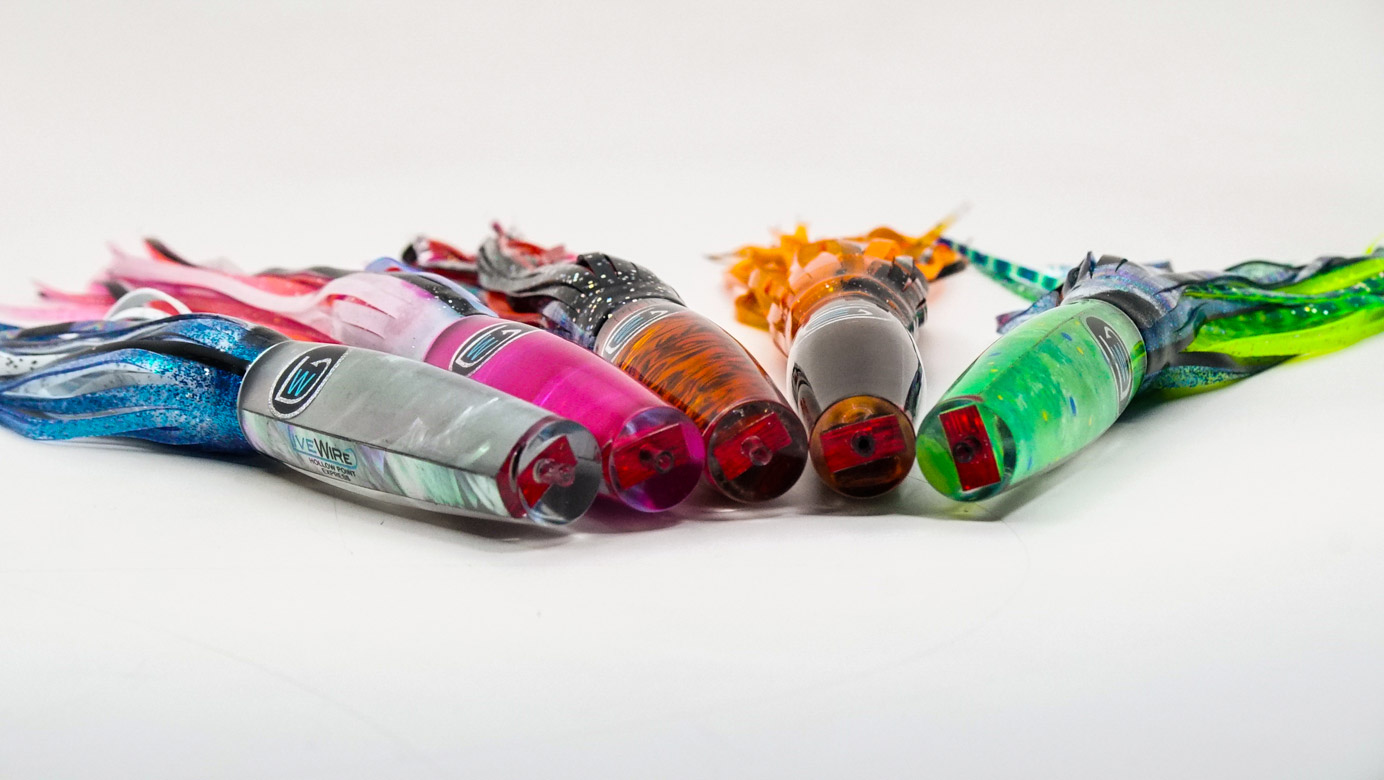 Landing fish while high speed trolling – When you do get a strike, there are several extremely important things to do.
Mark the exact location you get a hit in your GPS – Wahoo are pack feeders. If there is one, there are likely more. It is extremely common to catch several additional Wahoo within several hundred yards of the initial bite. After you reel in your first fish, you must circle back through the exact same spot at least two more times.
Drop Back – Crew members in the cockpit should be ready to act fast. When one of the lines gets a bite, your crew should release the drag on a lure that was not hit and release approximately 50ft of line out, dropping the lure back often times can trigger a second strike. When releasing drag pressure, be careful not to birds nest the spool.
DO NOT STOP THE BOAT – it is a natural reaction for captains to automatically pull the throttles back to neutral as soon as the reel starts to scream. You must resist this urge. You should continue at speed for approximately 10 seconds. Continuing at speed will dramatically increase your chances of getting a double or triple header. After ten seconds, begin to slowly decelerate until you are only going 7 mph, you should never go slower than 7mph or you will risk losing the fish.
Turn offshore – as you begin to slow down you must turn offshore, this will drag the wahoo into deeper water as you reel. This will dramatically reduce the likelihood of getting sharked as sharks tend to congregate shallower water.
Leave the rod in the rod holder at all times – most people want to pick up the rod and fight the fish in a stand up position. You should leave the rod in the holder and begin reeling to prevent letting your line go slack. While this may not feel as sportsman like, it is by far the most productive method.
The rigging– high speed trolling will put all of your terminal tackle to the test, if there is a week link in your setup you will find it while high-speed trolling. All rigs should use the highest quality snap swivels, Crip, cable, and hooks.
We use only clear heat shrink on all rigs made at LiveWire so customers are able to monitor tackle for corrosion prior to a failure. Most of our competitors rig with black or red heat shrink which is not transparent.

When fishing large or XL baits I prefer to utilize a 0 degree offset double hook set. When fishing small and mini baits I prefer a single hook set.

Don't make your shock chords too long, the ideal shock cord length is 25 ft. Almost all fish are lost within 50 feet of the boat while that last few yards are pulled in by hand. If you use long shock chords longer than 25 you increase the likely hood of loosing a fish. Extra long shock cords are much more likely to tangle and are more difficult to deploy and retrieve. We use mono on all shock chords because it has a large diameter which is easier on the hands.

We use a 7691 southern tuna bend hook on all of our rigs, the inward bend of the hook is harder for fish to throw during violent head shakes.

I strongly recommend using a Bimini to offshore swivel knot for your main line to snap swivel connection. The main line is typically the weakest link in a high speed trolling set up, and poorly tied knots can reduce the break strength by 50%. A Bimini to offshore swivel will retain 100% of the line strength.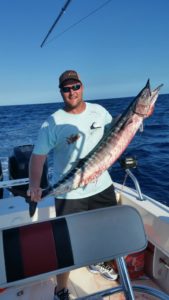 Why do I need to troll so fast – High-speed trolling has gained a ton of popularity over the past 15 years among anglers specifically targeting wahoo in the Bahamas and South Florida. The reason for the growing popularity is:
Covering More Ground – High Speed trolling allows anglers to cover a larger area of ground. Wahoo have a tendency to group up in a specific location. Due to this, you typically need to put some miles down to find where the fish are holding. However, once the fish are located it is very common to catch several in one area.
Bi-catch Reduction – Barracuda are extremely prevalent at many of the productive wahoo spots throughout Florida and the Bahamas. However, barracuda are no where near as athletic or as aggressive as a wahoo. Due to this, you can dramatically decrease the number of barracuda you catch by increasing your speed. Bottom line, barracuda do not want to chase a bait moving that quickly.
Rods and Reels – While just about any reel from 30's to 130's will work, my personal preference is two-speed 50w's spooled with mono. I think 2 speed reels are a great plus as you have excellent low end torque to fight a fish and speed to retrieve baits. I prefer mono to braid for high-speed trolling, mono provides additional stretch and acts as a shock absorber. Additionally, I find the braid makes the lines very difficult to handle when deploying and retrieving heavy trolling weights and lures. It is good practice to mark your lines at 150, 200, 250, and 300 to take all guess work out of setting my lines. This will make it almost impossible to tangle your lines while zig-zag trolling along the edge.
How to Cook Wahoo – Now that you have caught a wahoo you are in for a treat, as it is my favorite fish to eat without question. The Hawaiian's refer to Wahoo as ONO, the literal translation of ONO is Delicious. The trick to preparing wahoo is not to over cook it. Fresh wahoo is best served raw, or lightly seared. Most in the know, will agree that wahoo produces much better sushi or sashimi than yellow fin tuna.
Sashimi Style – when eating wahoo raw, the fish can either be sliced or cubed. Which you decide is personal preference. But I personally prefer cubes that are half inch wide. It is best served with a side of soy sauce and spice mayo. Spicy mayo can be made my mixing Japanese mayo with Sirach.
Seared Wahoo – If you do decide to sear your wahoo, slice the loin into steaks that are 1.5"-2" thick and sear each side for 45 second. This will leave the inside of the fish rare. Be careful not to over cook the fish, as this will remove most of the delicious flavor and texture.